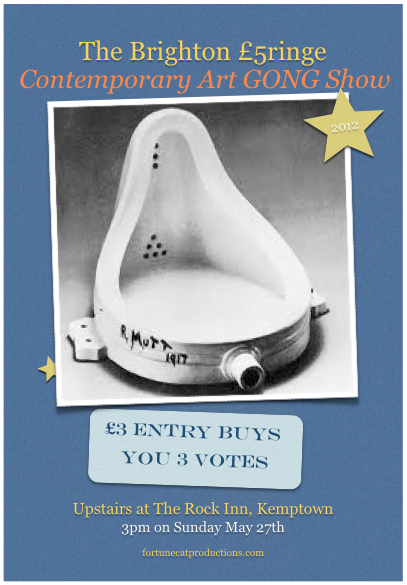 The May Festival is almost upon us and Brighton's art community stands ready to peddle it's wares. Yet it seems there are few opportunities for visual and conceptual art to be publicly discussed and judged.
This is a call out to any artist who feels courageous and unseen, be they established or emerging.
On the afternoon of Sunday May 27th at The Rock in Kemptown as part of the £5 Fringe, Fortunecat Productions are running an Art Gong Show in which a panel of seasoned art practitioners give their responses to work presented.
You are invited to bring an object, painting, idea, digital image or short performance that you feel represents your art practice.
The judges discuss the works and question the artist before the audience vote for their favorites.
The winner receives the £5 Fringe Art Prize
The artist in last place will be banned from showing any art for six months.
If you would like to participate, please email sam@fortunecatproductions.com