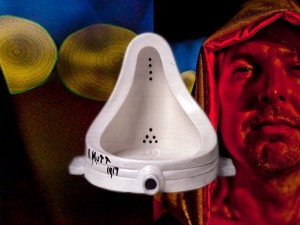 Dear artist
We are inviting artists working with digital technology to present an artwork and answer questions. It can be a completed piece, or work in progress and there will be a laptop, projector and PA at your disposal.
There is a panel of experts (including Jon Pratty from the Arts Council) who will comment on the work presented.
The audience then comment or ask questions.
The Gong is is rung to denote moments of significance. These can be salient questions, moments of clarity, confusion, boredom or poetry.
At the end the audience votes and the winner receives £50 and the Brighton Digital Art Prize.
The Digital Art GONG Show will take place at the Fabrica gallery on Monday 10th September 8-11pm.
We ran a Contemporary Art GONG Show in this year's Brighton Festival and all the contributors found it useful for their practice.
If you are interested in contributing please fill in the form below (and please pass this on to anyone you think fits the bill.)